Frequently Asked Questions
Tell me more about the different versions?
There are two main versions of Note Designer: the Download version and the Online version. The Download version is our classic program people have been using for years. Here you download the program and install it on your computer(s) – standard Mac and/or Windows systems. It comes with a small database in which the program stores any custom statements you create. You can also store notes temporarily until you can print them or copy/paste them into a secure long-term encrypted storage system.  Installation of the Download version is straightforward and can take as little as 5 minutes: You will provide your "signature line" that you want on your notes, then upon purchase you will be automatically sent an email that will include instructions plus a link for your download and an authorization code to use once you launch the program.  The Online version runs in any computer's browser, so there is nothing to install and it is convenient to use across multiple devices. Upon purchase  of your monthly or annual subscription you will be emailed a link to set up your account and password. Once you start using the program, if you create some of your own phrases or customize the pre-set statements, these customizations will all be safely stored in your account on our server so they will be available when you log in from other devices. Because this Online version is on the web, it is possible for us to make ongoing developments (e.g., new content) available immediately.
Tell me more about the different payment plans?
For the Download version there is only one payment plan: A one-time payment with no monthly or additional fees. For the Online versions there is either a low monthly subscription fee or an even less expensive annual fee. For both versions there are also reduced-fee group rates for groups of 3 or more practitioners: For the Online version this group rate is displayed on our Pricing page; for the Download version we ask you to contact us at info @ notedesigner.com so we can work out the details based on your particular needs.
How is billing handled?
All our online sales are handled by Fastspring, a world leader in e-commerce and the retail partner for thousands of online companies internationally. Fastspring securely handles your credit card information and billing (using industry-standard encryption to protect the confidentiality of your personal information); we at Note Designer then set up your user account and ensure access to the program. Depending on the plan you choose, billing is automatically done once (for the Download version) or either monthly or annually (for the online versions). The merchant of record is  Fastspring's office in the United States, and pricing is therefore in US dollars with conversions applied for other currencies that take into account the typical range of currency exchange fluctuation over time. If you need it, their W-9 information can be found here.
Does Note Designer run on Mac and Windows systems? Can I get a copy for BOTH?
Yes. The Online version of the program runs in the browser of any computer. For the Download version of the program, the online store will ask you to choose either Mac or Windows with your initial purchase, but your automatically-emailed receipt will include a link to download for the other platform as well. (Note that the downloadable program is not compatible with iPad/iPhone or Chromebook, however you will be sent a link to a browser-based version similar to the downloadable program although without storage functions and with somewhat limited customizability: this runs on iPads and other tablets).
Can I purchase a group license, or a license for trainees/interns to share?
Yes, in fact group rates for 3 or more practitioners are displayed on our Pricing page. For special situations, and also for the Download version, we work out group licenses on a case by case basis including the possibility of discounts for listservs. And, we want to encourage good note-keeping among trainees and interns. Please contact us at info [at] notedesigner.com to work something out.
Can I return the program? What is the license agreement?
You can return the program within 30 days for an unconditional full refund. The Online version has a button to cancel your subscription; for the Download version you can just send us an email saying you want to return the program.  The full end-user license agreement (EULA) can be seen here: License
Do you have a video demonstrating the program?
We have video at the bottom of our main page HERE.
Can I customize the statements?
Yes. For each note you write, you can write introductory and closing paragraphs. In addition, for each of the categories of statements (i.e., affective/mental state, themes of the session, interventions, treatment plan) there are many places to generate your own phrases and statements specific to your clientele and orientation. Plus, if you find you tend to re-use some of these (e.g., common interventions you use that are not covered in the existing statements) in many of your notes, you can choose to save them (over 100, distributed across the various sections of the note) to be presented as options each time you create a new note. Finally, for the Online version only, it is also possible to modify the wording of the 300+ pre-set statements to match your particular situation and style. All of these features are designed to balance structure and convenience with flexibility and customizability. Your customizations are stored on our server (for the online version) or in the program's database (for the download version).
Can I use this as a system for electronic note keeping?
The purpose of Note Designer is to help you to create your notes effectively and efficiently.  Note Designer is not an EHR (Electronic Health Records) system. Your notes are not transmitted to the cloud, or stored on our server.  Although there is a minimal storage function in the Download version of Note Designer, the intent is that this will be used as short-term storage until you can print your note and then erase it from storage. Note Designer is not intended as a system for electronic note keeping, but rather as a tool to help with structured and efficient note keeping. Users typically print their notes, or copy-paste the completed note either into a secure EHR system or into Word (or some other word processing program) for final editing/formatting and secure storage.
Is Note Designer HIPAA compliant?
Because Note Designer is a note writing software and not a record storage system (such as with Electronic Health Records), HIPAA compliance is not an issue. You are fully in charge of where and how you store your confidential data – with Note Designer your notes are never stored in the cloud or on our server – they remain in your hands on your device. (The short-term storage/backup specific to the Download version is only there for very temporary use and even then it is stored on your computer and not with us or over the internet – however, please note this temporary storage is not encrypted and so is not technically HIPAA compliant). All this being said, it is your professional responsibility to ensure that whatever method you choose to store your notes is HIPAA compliant. If you choose to save your notes on your personal computer please be sure to encrypt your files (easily done in most word processing systems) and only select EHRs that are truly compliant and safe for your records.
Can I use both the download version and the online version?
We anticipate most users will want either the Download version or the Online version of the program. If you would like to use both, please let us know and we'll work something out. Keep in mind that at this point the two versions are entirely independent: For example it is not possible at this time to customize the Online version and automatically have those customizations accessible through the Download version.
What can I do if I lose my password(s)?
Each version of the program has a lost-password function. For the Online version, you will see this on the login page: a link will be emailed to you so you can reset your password. For the Download version the Help menu includes an option for retrieving lost passwords for the note-storage database. The window that opens will instruct you to locate the "password retrieval" code from the original email that was sent to you when you purchased Note Designer. Simply copy that from the email and then paste it into the password retrieval window then press "submit". All the passwords you have used will be listed for you to write down and then use to access your notes in the usual way. If you are unable to find your password retrieval code you can contact us (via info [at] notedesigner.com) and we will help you out.
Is it difficult to install Note Designer? [DOWNLOAD VERSION ONLY]
Installation of the Download version is straightforward. There are three steps: You start by providing your "signature line" as you would like it to appear on your notes, and then complete your credit card information for our secure retail partner Fastspring. You will automatically be sent an email with a download link and an authorization code. Click a link to download the file and simply follow the instructions to install the program. (Mac users may find that they need to press the Control key at the same time as they click to open the program the first time, if they have Mac Gatekeeper activated.) Finally, when you first open Note Designer from your list of applications it will ask for your personal authorization code, which will already be in the email that was automatically sent to you when you made your purchase. If you experience any installation problems at all, please just contact us at info [at] notedesigner.com and we'll be happy to help out.
How do I enter my authorization code? [DOWNLOAD VERSION ONLY]
The authorization code for the Download version is of the form
 Robert Hartley, Ph.D./ZXXBKBCDWPA
and you are advised to copy/paste this entire code (including your name) from your receipt email into the authorization window (which will be obvious when you start the program).
Where can I download additional copies? [DOWNLOAD VERSION ONLY]
When you purchase the download version you will be sent an additional link for when you want to download additional copies for your own use on your other computers – including computers you buy in the future. That email will also have your authorization code, which you will need to make the program function. If you no longer have that email you can contact us.
Do you have any guidelines for writing notes?
Indeed we do. We wrote a little book that discusses guidelines for effective psychotherapy note writing. The book is available for sale at Amazon: Note Designer: a simple step-by-step guide to writing your psychotherapy progress notes by Patricia C. Baldwin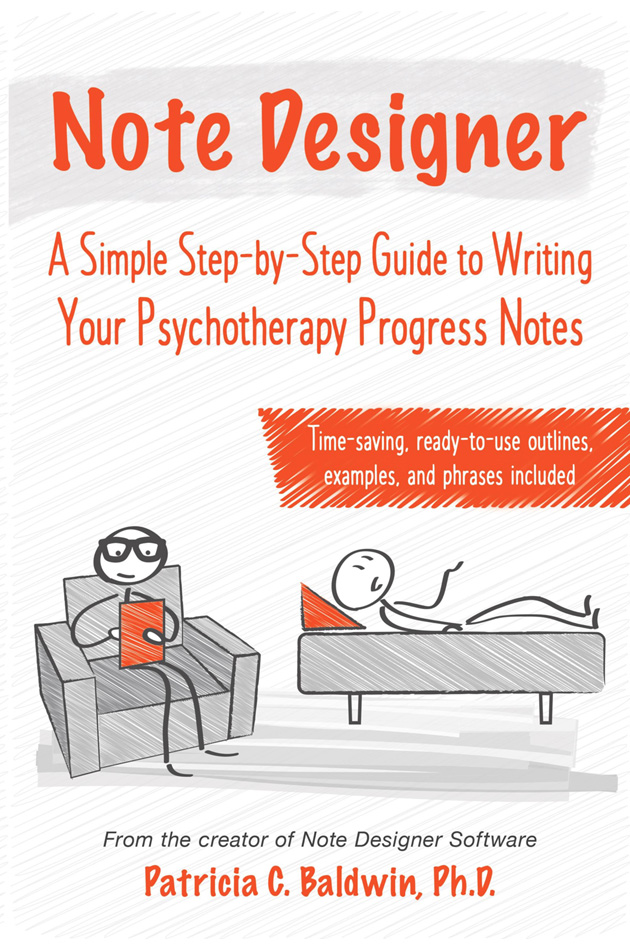 Where is Note Designer from? Are you in Canada?
Note Designer Inc. is a Canadian company. That said, although many of our users are in Canada, Australia, and other countries around the world, most are in the United States. All our online sales are handled by Fastspring, a US-based company that is a world leader in e-commerce and the retail partner for thousands of online companies internationally.
Est-ce que Note Designer est disponible en français?
"I just used it and am more than delighted at the amount of time this software is saving me. Many, many thanks!"

– A.V., Psychologist

"The software has already saved me hours of work and a truckload of frustration. Thanks!"

– R.R., MAMFT

"I love the program, it's exactly what I was looking for!"

– J.S., MA, LPC

"The program expedites the note writing and works very well. I love writing notes with this program."

– R.C.,M.D. ,Wichita, US

"Dear Note Designer, I want to tell you again, how much I love your product. It makes my life so much easier and I wouldn't be as effective in my work without it!"

-J.H., MS, LCPC, Illinois

"Thank you! I love this program and recommend it to all my colleagues! I appreciate your great customer service! Warm Regards."

- S.B., MS, LMHC, LPC

"Great program!!! So happy someone developed something like this!"

-D.H., LCSW, Kentucky
Note Designer was created in 2013 by psychologists who wanted a better way to generate therapy notes.
Ready to Get Started?
Start using Note Designer today! If it turns out to be not quite what you need, return it within 30 days for an unconditional refund.