The Fast, Effective, and Affordable Way to Write All Your Therapy Notes.
Note Designer virtually writes your notes for you. With hundreds of pre-set, professionally-written statements, and the option to create and fully customize your own: Just select-click and your notes are done.

Let's Get Started! Choose Your Individual or Group Plan Below:
POPULAR

Individual Monthly

$15 USD/month

For an individual user
Runs in your browser
Access from any computers
Low monthly fee
Highly customizable

Individual Annual

$150 USD/year

For an individual user
Runs in your browser
Access from any computer
Even lower annual fee
Highly customizable
Group Monthly

$12 USD/month per user

For groups of 3 or more
Low monthly fees
Same features as basic plan
Transferable to new users
Ideal for clinics

Group Annual

$120 USD/year per user

For groups of 3 or more
One low annual payment
Same features as basic plan
Transferable to new users
Ideal for clinics
What are the Features of Note Designer?
*30-day trial period: Just return for a full refund if you are not satisfied
*HIPAA compliant: You are in charge of your protected health information
*Notes are never stored in the cloud, to protect the confidentiality of your information.
*You can access Note Designer on-line from all of your devices (e.g., laptop, iPad, Chrome book)
*Point-and-Click your note is done: Hundreds of professionally written phrases to choose from
*Content is organized in an easy-to-use and structured form in all Note Designer templates
*Includes Basic, SOAP, BIRP, DAP, Couples, and Child & Family Therapy progress note types
*Treatment Plan, Risk Assessment, Intake Report, and Termination Report also included
*You can edit, rearrange, and modify all Note Designer content to suit your practice
*You can "like" and "hide" Note Designer statements to organize the program as you wish
*Customize your own statements and content for use in all your future notes
*Customize your own note templates to suit your particular practice needs
*All of your customized content is stored safely for your future use
*You can add your digital signature to easily sign your notes with just one click
*Copy and save your notes on your own device or upload them into your EHR
*New content and features upgraded regularly
*Affordable, time-saving, and easy to use
Screenshot of Note Designer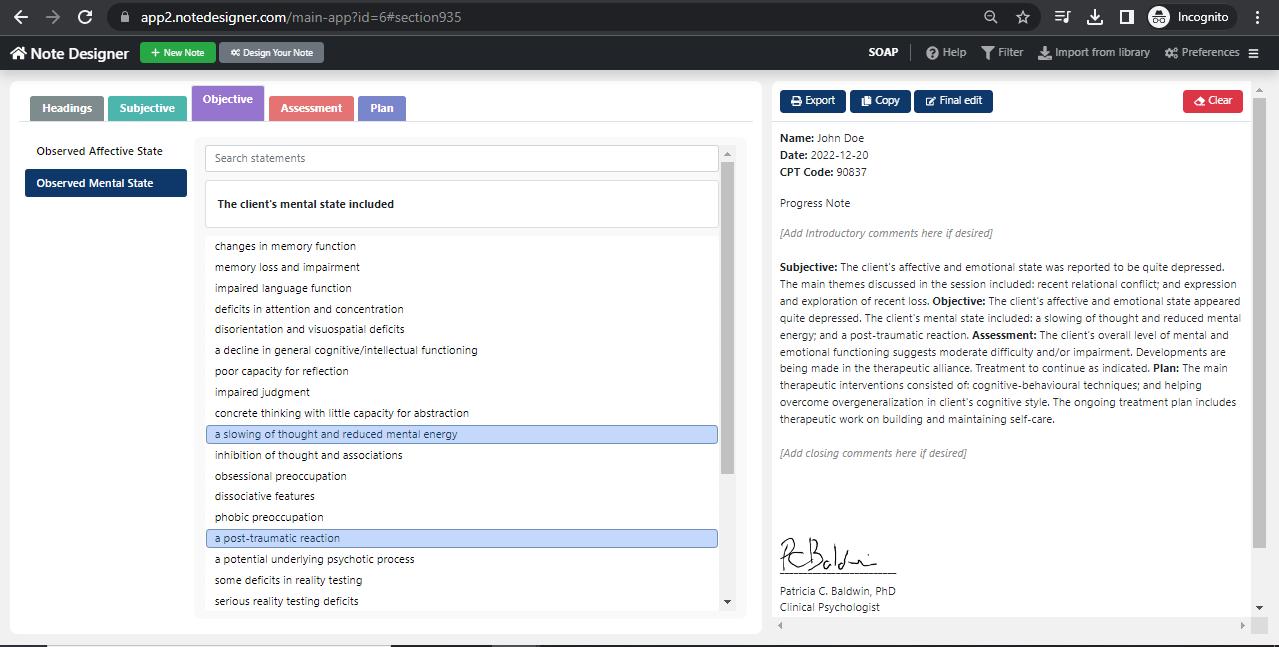 "I just used it and am more than delighted at the amount of time this software is saving me. Many, many thanks!"

– A.V., Psychologist

"The software has already saved me hours of work and a truckload of frustration. Thanks!"

– R.R., MAMFT

"I love the program, it's exactly what I was looking for!"

– J.S., MA, LPC

"The program expedites the note writing and works very well. I love writing notes with this program."

– R.C.,M.D. ,Wichita, US

"Dear Note Designer, I want to tell you again, how much I love your product. It makes my life so much easier and I wouldn't be as effective in my work without it!"

-J.H., MS, LCPC, Illinois

"Thank you! I love this program and recommend it to all my colleagues! I appreciate your great customer service! Warm Regards."

- S.B., MS, LMHC, LPC

"Great program!!! So happy someone developed something like this!"

-D.H., LCSW, Kentucky
Note Designer was created in 2013 by mental health professionals who wanted a better way to create professional and comprehensive therapy notes.
Ready to Get Started?
Start using Note Designer today! If it turns out to be not quite what you need, return it within 30 days for an unconditional refund.