Let's Get Started! See Features and Choose Your Plan Below:
Download Version

$185 USD Total

Mac and/or Windows
All your computers
Short-term storage on your computer
One-time fee
Group pricing? Contact us!
FEATURED

Individual Monthly

$15 USD/month

Mac and/or Windows
Runs in your browser
Access from any computers
Low monthly fee
Highly customizable

Individual Annual

$150 USD/year

Mac and/or Windows
Runs in your browser
Access from any computer
Even lower annual fee
Highly customizable

Group Monthly

$12 USD/month per user

For groups of 3 or more
Low monthly fees
Same features as basic plan
Transferable to new users
Ideal for clinics

Group Annual

$120 USD/year per user

For groups of 3 or more
One low annual payment
Same features as basic plan
Transferable to new users
Ideal for clinics
Which Note Designer version is best for you?
BENEFITS OF ALL VERSIONS OF NOTE DESIGNER:
30-day trial period: Just return for full-refund if you are not satisfied
Notes are never stored in the cloud, to protect the confidentiality of your information.
Point-Click-Your note is done: Hundreds of phrases to choose from, organized according to the client/patient's affective and mental state, the themes of the session, the interventions or treatments in the session, and an evaluation of progress plus plans for ongoing treatment. SOAP format is also an option.
Customize your own statements for each section of the note.
Add specific comments about the session, as appropriate.
Each note includes your personalized signature line, to which you can add lines with your institutional affiliation, address, etc.
Set your preferences for wording (e.g., "client" vs "patient"; "behaviour" vs "behavior").
Create an Intake or Termination Note.
**Includes a new "Treatment Plan" module at no extra charge.
Customize your own headings as needed.
Print your note, or copy it to your word processor or EHR.
BENEFITS OF THE ONLINE SUBSCRIPTION VERSION:
Can be used on all of your tablets (iPads, Chromebooks), laptops and desktops.
New content and features added and updated regularly
Offers almost unlimited space for you to create your own content
Access to all your customizations from all of your devices
All your customizations are stored safely for future use
Users can edit the pre-set statements
Low monthly or annual fee options
Ideal for clinics and groups (with discount rates for groups of 3 or more)
BENEFITS OF THE NOTE DESIGNER DOWNLOAD VERSION:
One-time fee
Can download onto all your Mac and/or Windows computers
Offers temporary short-term storage on your computer
Users can hide pre-set statements they do not use
Users can create and customize hundreds of their own statements
Group rates available (contact us for more details)
Screenshot of Online Subscription Version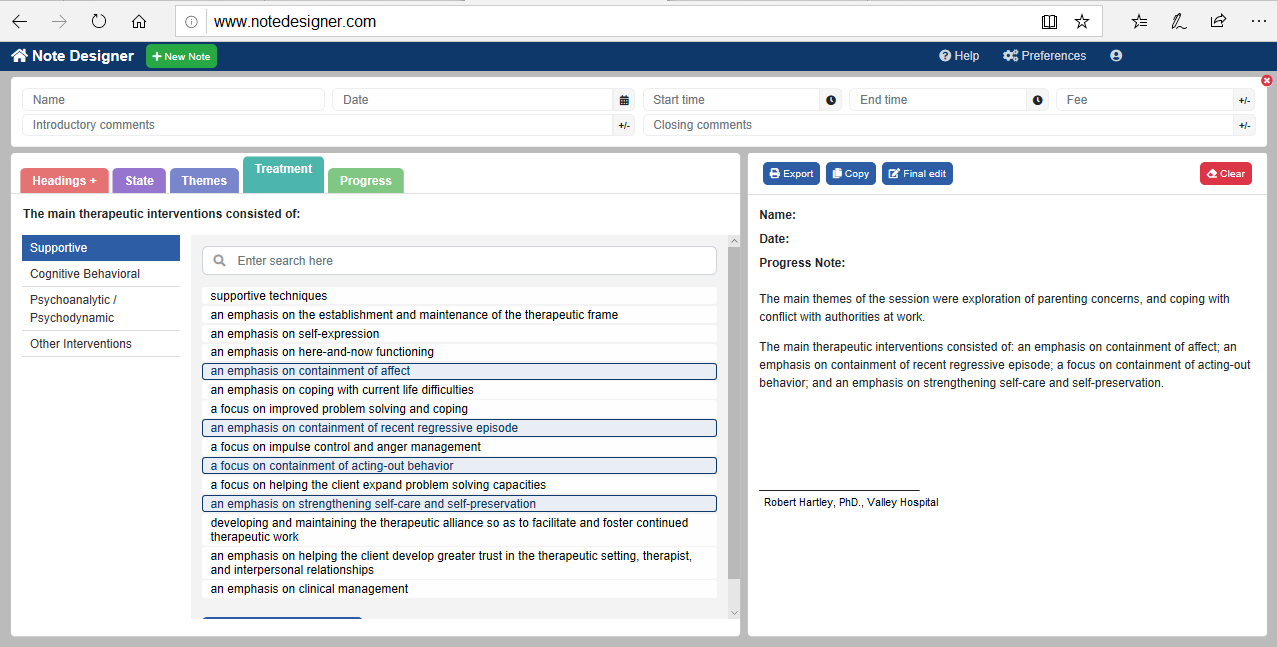 Screenshot of Download Version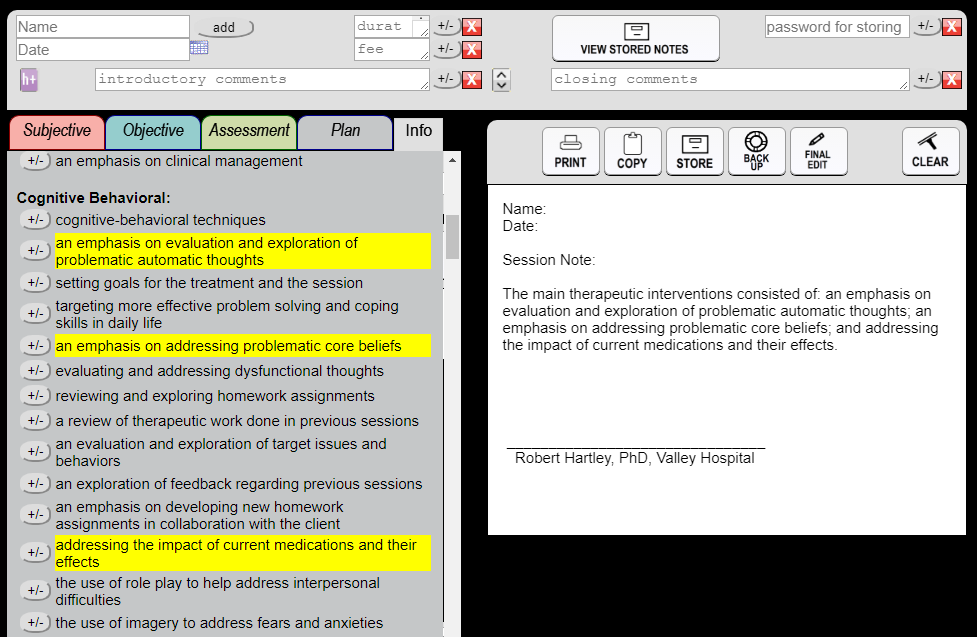 "I just used it and am more than delighted at the amount of time this software is saving me. Many, many thanks!"

– A.V., Psychologist

"The software has already saved me hours of work and a truckload of frustration. Thanks!"

– R.R., MAMFT

"I love the program, it's exactly what I was looking for!"

– J.S., MA, LPC

"The program expedites the note writing and works very well. I love writing notes with this program."

– R.C.,M.D. ,Wichita, US

"Dear Note Designer, I want to tell you again, how much I love your product. It makes my life so much easier and I wouldn't be as effective in my work without it!"

-J.H., MS, LCPC, Illinois

"Thank you! I love this program and recommend it to all my colleagues! I appreciate your great customer service! Warm Regards."

- S.B., MS, LMHC, LPC

"Great program!!! So happy someone developed something like this!"

-D.H., LCSW, Kentucky
Note Designer was created in 2013 by psychologists who wanted a better way to create professional and comprehensive therapy notes.
Ready to Get Started?
Start using Note Designer today! If it turns out to be not quite what you need, return it within 30 days for an unconditional refund.